Supporting Green Growth and Sustainable Development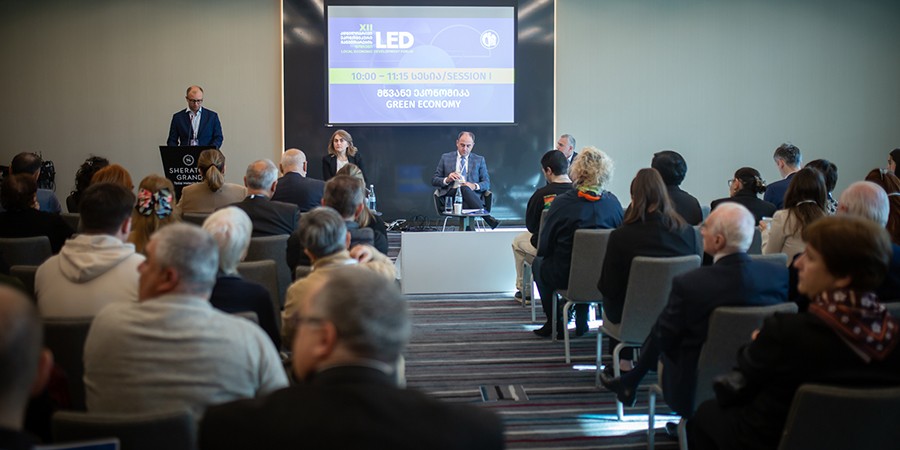 10.11.2022
PMCG at the 12th Local Economic Development Forum in Tbilisi
On November 1-2, PMCG participated in the 12th Local Economic Development Forum in Tbilisi. The event was dedicated to sustainable economic recovery and was organized by Tbilisi City Hall.
The aim was to exchange experiences, ideas, and approaches, and to contribute to sustainable development of cities and gathered representatives of international organizations, public and private sectors. Kakha Kaladze (Mayor of Tbilisi), Nick Beresford (United Nations Development Program Resident Representative in Georgia), Sanja Celebic Lukovac (Chief of Mission at International Organization of Migration, Georgia), Catarina Bjorlin Hansen (Regional Director of the European Bank of Reconstruction and Development (EBRD) for the Caucasus ), and Maciej Czura (Head of the European Investment Bank's Regional Office for the South Caucasus), among others, made opening remarks.
"This forum is a good platform to discuss future cooperation and I am glad to be here. Tbilisi was one of the first cities to join the green cities program and we wish great success to Tbilisi City Hall in future projects. Their cooperation with EBRD will continue in the future as well,"

said Catarina Bjorlin Hansen.
The participants discussed the following topics: Urban Economy and Sustainability; Pandemic Economy and Post-Covid Economic Recovery; Green Economy; Economic Impacts of Migration and Human Capital Development; Social Policy and Urban Poverty Reduction; and Investing in Business-friendly Cities.
Zviad Kharebava, Director at PMCG, participated in the "Green Economy" session along with Mzia Giorgobiani (Deputy Minister of Regional Development and Infrastructure of Georgia), Davit Narmania (Prof. Dr., Chairman at Georgian National Energy and Water Supply Regulatory Commission), and Elaine Meskhi (Principal Consultant in Sustainable Energy and Transport at Steer (UK)).
"This is a very important platform where representatives of public and private sectors, academia, and civil society can come together and discuss topics related to various issues including improving human health and lives, inclusiveness, climate change, urbanization, migration, sustainable green growth, and municipal services. It is worth noting that the forum returns after a two-year pause due to COVID-19,"

said Mr. Kharebava.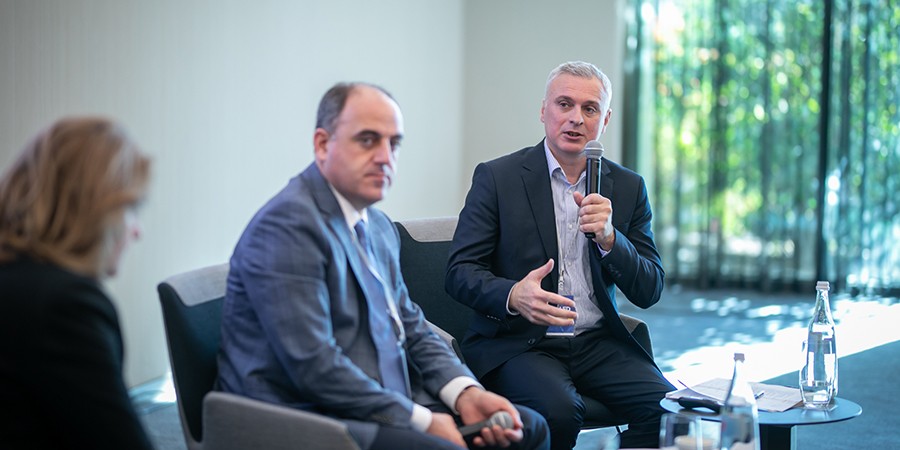 "I believe that these discussions and knowledge-sharing will lead our cities and rural areas to become more attractive places both for the local populations and visitors,"

added Kharebava.
Moving towards a greener economy and the very notion of green growth is a complex and multidimensional topic, especially for developing countries. The concept entails continued inclusive economic growth, which is needed by developing countries to reduce poverty and improve wellbeing, as well as improved environmental management to reduce and/or mitigate environmental risks, ecological scarcity, and climate change. The green economy model positively balances environmental and social goals for the benefit of nature, citizens, and businesses.
"During the Green Economy panel, we focused on one very important direction of green growth: the circular economy. We emphasized why a circular economy is important not only for job creation and product circulation, but also for fighting against the depletion of natural resources and regenerating the Earth. The elimination of waste and pollution is one of the main principles of a circular economy; we presented different technologies used in waste treatment that can be introduced to our country in the coming years,"

said Mr. Kharebava.
As in a green economy there is an emphasis on the creation of cleaner and viable alternatives in all areas of life and every sector of the economy, these efforts demand greater support from both the private and public sectors.
Caring for the environment is essential in the course of achieving better living standards for the population as a whole. Environmental pollution and climate change are well-known global problems, which are being tackled across the whole world, and we endeavor to play an effective role in this battle. While Georgia tries to keep up with global economic growth, it is still critically important to protect the local environment and its values.
In this regard, we work closely with international organizations, national authorities, and affected communities to ensure that the activities carried out and results achieved meet international standards, national strategic goals, and local needs.
Environment Policy Advisory Team
Environment Policy Advisory Team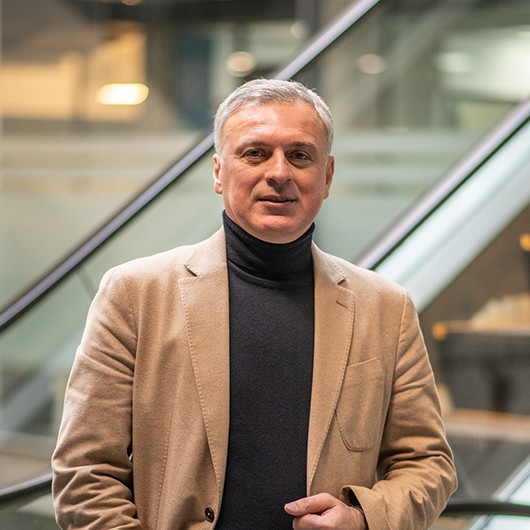 Zviad Kharebava
Director. Infrastructure and Environment
Dr. Kharebava is Business Sector Consulting Director at PMCG. Benefiting from 15 years of impressive experience, he plays crucial role by expanding the company's business sector portfolio. He joined the company in 2013 and has since brought valuable partners to PMCG through supporting key clients in infrastructural, hydro power and agricultural projects by providing plans of business development, fundraising and investment.

His vast expertise in this field allows him to coordinate mergers and acquisitions, market entry and strategic development processes at a high level.

He previously held the position of General Director at Sakhydroenergomsheni Inc. supervising rehabilitation works on Enguri Georgia's largest hydro power plant, funded by EBRD. Dr. Kharebava also managed the construction and rehabilitation works of water supply and gas pipeline systems, as well as riverbank fortification and tunnels. As CEO at Kala Capital LTD, he was identifying investment opportunities in real estate, energy and financial sector development, negotiating with equity partners and financial institutions to obtain investment for project implementation.

Away from the private sector, Dr. Kharebava has gained important experience in the public sector. As Advisor to Prime Minister of Georgia on Economic Issues he worked with the relevant ministries on developing economic reforms focused on business environment development in Georgia. Consequently, and after overseeing the privatization process, the World Bank reports on "Doing Business" named Georgia as the fastest reforming country in the world.

Dr. Kharebava gathered in-depth knowledge and experience of simplifying licensing procedures, standardization and certification regulation and in coordinating the Poverty Reduction Program in Georgia during his time serving in the position of Director of Economic Policy Departments at the Ministry of Economic Development of Georgia (MoED).

His academic background is similarly impressive. Dr. Kharebava holds a BS and MS in Applied Mathematics from Georgian Technical University (Tbilisi, Georgia), is an Aspirant from A. Razmadze Mathematics Institute of the Georgian Academy of Sciences (Tbilisi, Georgia), and has earned an ME and PhD from North Carolina State University (Raleigh, NC, USA). He is the author of six publications and has won numerous international grants and awards.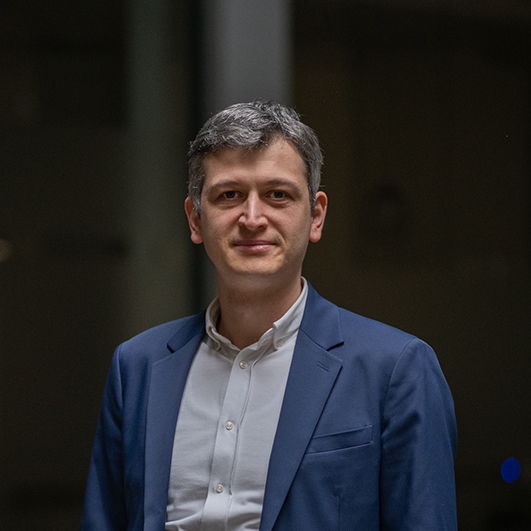 Roni Kvatchadze
Consultant, Energy, Environment and Finance Management
Mr. Roni Kvatchadze is an Energy, Environment and Finance Management Consultant at PMCG. He is responsible for planning and implementing projects related to the waste management and energy sectors, for fundraising and collaborating with partners, clients and international development organizations, as well as anticipating, analyzing and managing the company's diverse policy issues and campaigns in …
Continued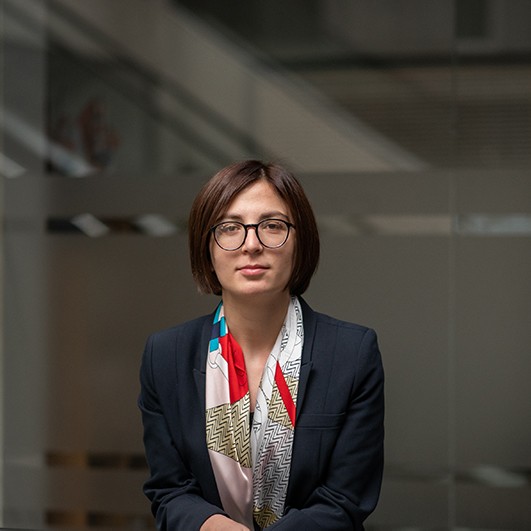 Salome Napetvaridze
Director. Infrastructure and Environment. Project Management Unit
Mrs. Napetvaridze is a project manager at PMCG, responsible for developing projects, coordinating and communicating with project partners, consultants and beneficiaries, and undertaking market research and analysis. She joined our team in 2016 as a project officer and since then has enhanced and developed the skills necessary for project management. Prior to joining us, she …
Continued