Trade Resilience During Crisis Situations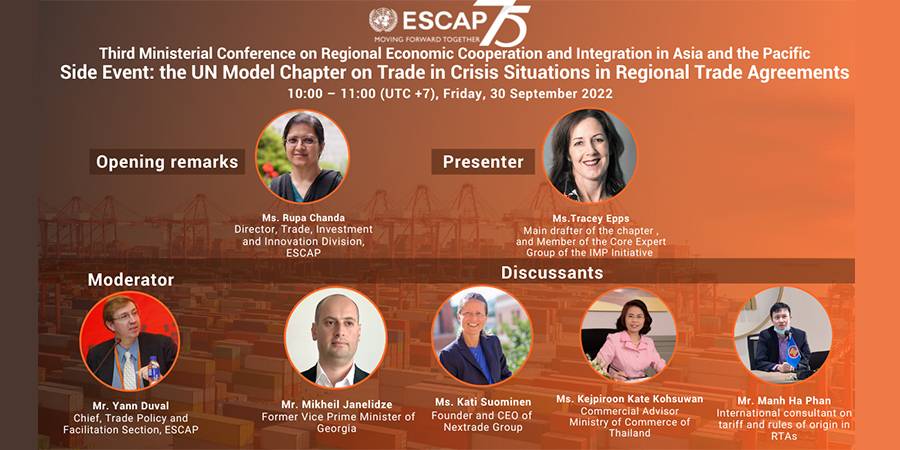 12.10.2022
On September 30, PMCG contributed to an event entitled "The UN Model Chapter on Trade in Crisis Situations in Regional Trade Agreements," which was held as part of the Third Ministerial Conference on Regional Economic Cooperation and Integration in Asia and the Pacific, organized by the United Nations Economic and Social Commission for Asia and the Pacific (UN ESCAP).
Mikheil Janelidze, Sector Lead in Trade Policy at PMCG, participated in a panel discussion together with other experts who possess extensive trade negotiation experience, discussing how to improve existing agreements to make trade more resilient during crises.
The COVID-19 pandemic highlighted the limitations of existing trade rules in ensuring trade resilience during crises. Learning from this experience, including more specific and dedicated legal provisions in trade agreements has been called for to minimize the impacts from trade disruption in times of crisis, one means of which would be introducing a new and separate standalone chapter in relevant agreements.
The purpose of the event was to discuss the role of regional trade agreements in crisis situations, such as pandemics, and the use of special provisions related to trade in crisis situations in Regional Trade Agreements (RTDs), which were developed by the UN Group of Experts.
During the event, the "Model Chapter on Trade in Crisis Situations in Regional Trade Agreements" was presented for the first time, as a template to be further tailored to meet the specific needs of the parties in actual trade agreements. The session enabled interaction with the main drafters to discuss the best ways forward and included a panel discussion with invited trade policy and negotiation experts.
"The Handbook on Provisions and Options for Trade in Times of Crisis and Pandemic as well as the model chapter on trade in crisis situations in regional trade agreements will serve as an important guide for trade negotiators and policymakers around the globe. Building the capacity of countries to deal with crises at regional levels through relevant rules and procedures under the regional trade agreements could be the first important step toward facilitating the process of developing multilateral rules and procedures supportive to building collective action for a more effective global response to similar crises in the future. It is important that countries are ready to implement the provisions, manage the risks, and keep the private sector involved in trade during crisis,"

said Mr. Janelidze.