Supporting Solid Waste Management in Georgia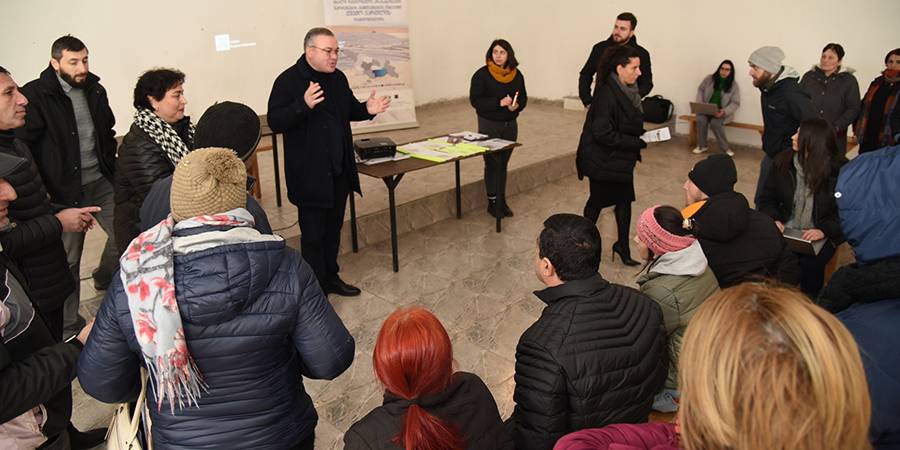 16.03.2023
Public Hearing of an Environmental Impact Assessment (EIA) of the New Regional Sanitary Landfill Facility in Kvemo Kartli, Georgia
On February 21, as part of the Kvemo Kartli Solid Waste Management project, funded by EBRD, the public presentation was staged of an environmental impact assessment (EIA) of the new regional sanitary landfill facility to be built in Tetritskharo, in Georgia's Kvemo Kartli region. PMCG's team of consultants developed the EIA report.
According to the presented report, the construction and operation of a new regional sanitary landfill will be carried out in accordance with international standards and Georgian legislation, ensuring a significant improvement in the ecological and living conditions in Kvemo Kartli region.
The event gathered representatives of the Solid Waste Management Company of Georgia (SWMCG), the National Environmental Agency, local self-government, as well as project-implementing consultants, interested parties, and local residents.
All parties had an opportunity to not only attend the presentation but to also submit comments and opinions.
The project envisages the construction of a new EU-compliant regional sanitary landfill and relevant access infrastructure to serve the Kvemo Kartli region of Georgia. It will be constructed in Tetritskaro Municipality in accordance with the EU Landfill Directive requirements and national legislation. The new landfill will serve the municipalities of Marneuli, Bolnisi, Dmanisi, Tetritskharo, and Tsalka, with a total of 300,000 people expected to benefit from improved services.