Launch of EU for Freedom of Expression Project in North Macedonia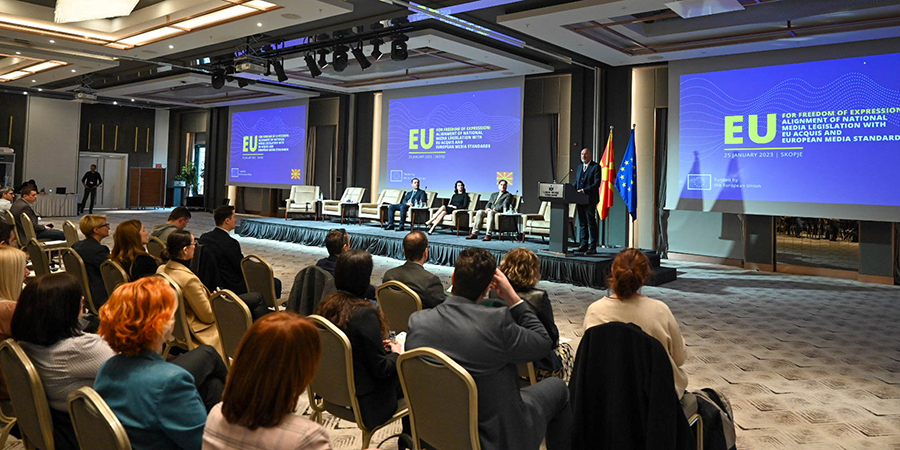 1.03.2023
On January 25, PMCG, as part of an international consortium led by B&S Europe, with the Delegation of the European Union and the Ministry of Information Society and Administration, participated in the public launch of the EU-funded project "EU for Freedom of Expression: alignment of national media legislation with EU acquis and European media standards" in Skopje, North Macedonia.
The project aims to create a legal environment that promotes freedom of expression, competitiveness, and the long-term viability of the media market through the harmonization of media legislation with the Media Directive (EU)2018/1808 and other relevant European media acts. This will be achieved by supporting pertinent institutions and by encouraging the influence of various civil society organizations (CSOs) and the media sector in defining new media policy directions and amendments to the media-related laws.
Furthermore, the project proposes recommendations for updating the legal framework in accordance with the relevant EU acquis and best practices to guarantee freedom of expression, freedom of speech, reception and transmission of information, and media pluralism.
The Ministry of Information Society and Administration is the main beneficiary, while the Agency for Audio and Audio-Visual Media Services together with the Public Broadcaster Service are the two other beneficiaries. In addition, the project will serve relevant ministries, organizations, and entities active in the areas of protection of freedom of expression, market regulation, and media pluralism, as well as the Public Service Broadcaster and CSOs.
The EU has been monitoring and supporting the process of the development of media policies and supporting the harmonization of national legislation with the EU acquis in North Macedonia for more than two decades already.