Enhancing Public Financial Management (PFM) at the ICGFM Conference in Washington, DC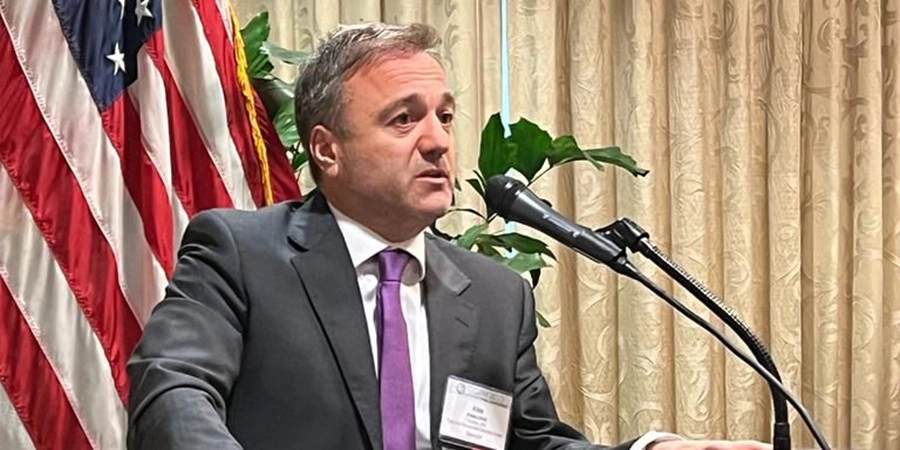 16.10.2023
On September 19-21, PMCG's CEO and Chairman, Aleksi Aleksishvili, in the capacity of Vice-president at the International Consortium on Governmental Financial Management (ICGFM), hosted the 2023 International Conference at the University Club of Washington, DC. Notably, the event convened more than 100 leaders and professionals in public financial management (PFM) from over 30 countries. Primarily, the Conference was designed to share information and experiences about the latest innovations in PFM. This year's conference focused on three main topics: Climate Change and Crisis Management; Economics and Public Investment; and Public Investment, Tax Systems, and PFM. They were each discussed in light of ongoing conflicts worldwide, and particularly the human, political, and economic consequences and realities of Russia's continuing war of aggression in Ukraine.
During the conference, Aleksishvili welcomed attendees and delivered opening remarks, establishing a platform for engaging and productive discussions. Moreover, he moderated a panel session titled "Ukraine's PFM under Global Shocks," contributing substantially to the conference's overall success.
Crucially, PMCG has been a dedicated participant at the annual conference and a member of the ICGFM since 2019. Such an affiliation has helped the company to contribute further to the common goal of enhancing PFM practices.
Climate Change and Crisis Management
To begin with, the conference focused on climate change and crisis management. Here, sustainability emerged as a key theme during the discussions, with one session dedicated to monitoring environmental, social, and governance (ESG) initiatives. Furthermore, presenters delved into crisis and supply chain management, offering insights into the USAID initiative in this area.
Tetiana Iefymenko, President of the Academy of Financial Management in Ukraine, contributed to a panel session dedicated to Ukraine. Her country is currently undergoing marked transformations across its socio-political, economic, and military landscape. In this context, strategic PFM approaches have become imperative. With international assistance, Ukraine's PFM is demonstrating resilience, supporting the Armed Forces, resolving acute social problems, as well as restoring the national economy.
Throughout the conference, panel presenters also delved into the topic of managing public finances in times of crisis. Specifically, they explored experiences of supporting the Government of Ukraine and managing PFM processes such as executing payments during wartime.
Economics and Public Investment
The second day of the conference centered on another of the main topics: "Economics and Public Investment." In this regard, discussions were held on debt transparency, highlighting the importance of reporting reforms. Using the 2021 results of USAID's Debt Transparency Scorecard (DTS), presenters from the International Budget Partnership, National Democratic Institute, and the Open Government Partnership discussed the current state of debt transparency. In addition, they also covered the work being conducted by practitioners in this area, and the necessary next steps to incentivize comprehensive reporting.
At conference, PFM reforms in Africa, particularly Ethiopia, Rwanda, and Uganda, were highlighted. Participants discussed: how PFM is anchoring Ethiopia's road to prosperity; progress made and initiatives undertaken to implement IPSAS in Africa, using Rwanda as a case study; and Uganda's experience in PFM digitalization.
On the conference's second day, challenges and strategies related to implementing public investment programs amidst increasing uncertainty were also explored. Indeed, the need for change in PFM was discussed, while an emphasis was placed on climate-smart financial management.
Public Investment, Tax Systems, and PFM
The last day of the conference, covering the topic of "Public Investment, Tax Systems, and PFM," dealt with numerous pivotal issues. Firstly, it highlighted the importance of integrity within revenue administrations as a critical factor in ensuring tax compliance. Here, experiences were shared of the USAID Uganda Domestic Revenue Mobilization for Development Activity (DRM4D) in collaborating with the Uganda Revenue Authority and newly formed city administrations to enhance revenue collection. Secondly, the discussion turned to the digital transformation of public finance, driven by the need for improved service delivery (particularly in the wake of the COVID-19 pandemic). This session explored how digital technology affects various aspects of public finance, including budget management, data-driven decision-making, and innovative practices. Lastly, the value of integrating existing government systems into grant distribution processes was stressed. In particular, organizations like Gavi and the Global Fund are working devotedly towards this goal, and their representatives outlined their strategies designed to ensure the seamless incorporation of country systems. Meanwhile, other participants were invited to contribute their own insights on overcoming associated challenges. In summary, the final day emphasized the significance of integrity in revenue management and the transformative potential of digital technology in public finance. Moreover, the importance of harmonizing international efforts with existing country systems in global health and development projects was underlined.