Welcome Sacha Bepoldin, Our New Business Development Officer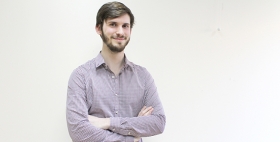 22.03.2016
We are delighted to introduce our newest team member, Sacha Bepoldin who joins us as a Business Development Officer. Sacha will be responsible for technically supporting new business development, extending partnerships, identifying new project opportunities and contributing to the company's strategic development.
Prior to joining our team, Sacha worked for Caucasus Research and Resource Center (CRRC) as an International Fellow, researching EU-Georgia relations, sociological subjects in the South Caucasus, geopolitics and institutional change. He has also accumulated valuable experience in project management and EU-related topics while working at Friedrich Naumann Stiftung and Konrad Adenauer Stiftung.
Sacha holds a Master's degree in International Security, from the Institute of Political Studies (Paris, France), was an exchange student in International Relations and European Studies at the University of Helsinki (Finland), and holds a Bachelor degree in European Studies and Political Sciences from the French-German European Campus of Sciences Po (Nancy, France).