We Support Newly Created Local Self Governments!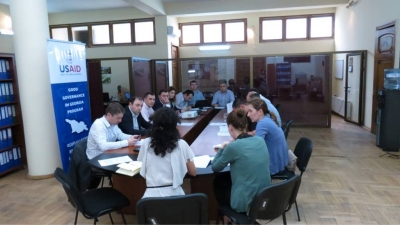 12.05.2014
In the framework of the USAID-funded project – Good Governance in Georgia (G3) – PMCG will develop a manual on the division of municipal property and liabilities, and conduct training courses for 7 newly created local governments (LGs).
The project is being carried out within the territorial reform, which is one of the components of local self-government reform. This aims to mentor members of the interim working groups on the division of property and liabilities among the newly created LGs and to develop a manual on municipal property and liabilities management.
In order to bring all possible stakeholders together and to discuss the draft rule on property and liability division proposed by Ministry of Regional Development and Infrastructure of Georgia (MRDI), the first meeting was held on May 6 between PMCG consultants and the representatives of G3, National Agency of Public Registry, National Agency of State Property, Legal Department of the Ministry of Economy and Sustainable Development of Georgia and the MRDI.
"Effective management of the municipal property and liability is a challenging issue for the local self governments especially in the process of territorial reforms initiated by MRDI. Therefore, our experienced consultants will actively assist the representatives of the municipalities to efficiently segregate property and liabilities expeditiously", explains Project Manager, EkaGhvinjilia.