Unlocking SME Finance and Making it Work in Central Asia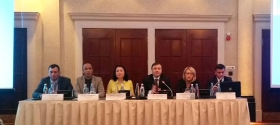 27.06.2017
On June 27, PMCG's Chairman and CEO Aleksi Aleksishvili and Project Manager Mikheil Skhiereli participated in a workshop entitled Unlocking SME Finance and Making it Work in Central Asia.
The two-day event was opened by Ayumi Konishi, Director General, East Asia Department at Asian Development Bank (ADB), Nikoloz Gagua, Deputy Minister of Finance of Georgia (MoF), and Chul Ju Kim, Deputy Dean at Asian Development Bank Institute (ADBI).
The workshop was jointly organized by ADB, MoF, ADBI, the Academy of the Ministry of Finance of Georgia, and CAREC Institute. The ultimate aim of the event was to promote SME financing in developing Asian countries.
Within the framework of the session, Skhiereli discussed the role and impact of public intervention in financing SMEs, focusing on credit guarantee schemes and SME development banks as two widely used policy tools to mitigate banks' risks associated with SME lending.
Aleksishvili moderated the session dedicated to the methods of promoting SME financing in Central Asia. Speakers from Mongolia, Pakistan, Tajikistan and Uzbekistan shared their views regarding key challenges and constraints faced in each of their respective countries and discussed the lessons learned.
"Such discussions are crucial for the further development of countries in transition. They serve as important facilitators of raising new initiatives for overcoming challenges, hindering poverty reduction and overall economic growth", said Aleksishvili.