Two Georgian Projects Presented at European Development Days (EDD) for First Time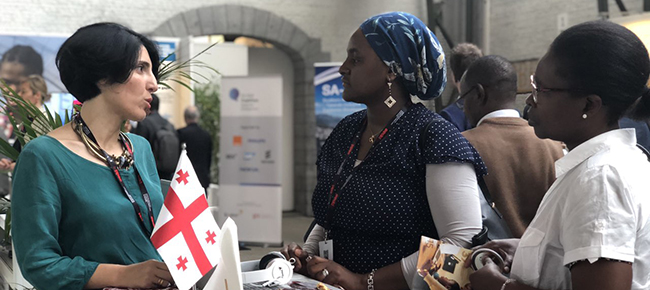 20.06.2019
On June 18-19, we participated in, and presented two Georgian projects at, the European Development Days (EDD) 2019 in Brussels, the first time that projects from Georgia have been showcased at the forum in its 14-year history.
The EDD, organized by the European Commission, is a large international forum gathering the development community each year to share ideas and experiences to inspire new partnerships and innovative solutions to the world's most pressing challenges. This year the forum was entitled "Addressing inequalities: building a world which leaves no one behind."
"Being part of the world's leading forum on international cooperation and development is important not only for us, but also for the whole of Georgia. The event gave us an opportunity to share successful experiences of our completed as well as ongoing projects with world leaders, leading international institutes, and consulting companies," explained Aleksi Aleksishvili, Chairman and CEO at PMCG.
One project presented at the event is entitled "Promotion of Rural Development and Diversification in Khulo Municipality" the main goal of which is to enhance employment and living conditions in Khulo, a remote high mountainous region of Georgia through diversification of the rural economy. This project is being implemented by Caritas Czech Republic in Georgia (CCRG) together with the Croatian Rural Development Network (HMRR) and PMC Research under the European Neighborhood Programme for Agriculture and Rural Development (ENPARD).
The other project to be presented was "Mayors for Economic Growth" which aims to support local authorities to become active facilitators for economic growth and job creation at the local level. This initiative is being implemented in Eastern Partnership (EaP) countries by PMCG, as part of a consortium led by Ecorys Nederland B.V.