Three New Grants to Support Georgian Municipalities to Promote Local Economic Growth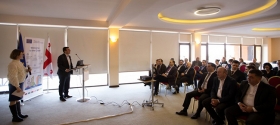 14.02.2018
On February 7, three Georgian municipalities – Bolnisi, Gori, and Tbilisi – were selected to receive a total of around 1.4 mln euro of grant funding from the European Commission (EC).
The decision followed a call for proposals from the local administrations of Eastern Partnership countries, under the EC's Mayors for Economic Growth initiative. The funding is allocated to implement pioneering projects in the selected municipalities to facilitate economic development and job creation.
Mr. Carlo Natale, Deputy Head of the Delegation of the European Union to Georgia, congratulated the winners and reinstated the EU's commitment to supporting positive transformations in Georgia where they are needed the most. "Municipalities can make real changes on the ground with a direct impact on economic growth and living conditions of the population. This is why EU strongly supports local authorities to become active facilitators for sustainable development and economic growth," he stated.
Mr. Irakli Matkava, the First Deputy Minister of Regional Development and Infrastructure, as well as Mayors and Deputy Mayors of the involved municipalities, also spoke at the pioneer projects' launch ceremony, underscoring the efforts and commitment being made at national and subnational government levels in achieving sustainable economic growth for the country as a whole, and Georgian municipalities in particular.
Around 50 high-ranking officials from the involved municipalities and ministries, representatives of the EU Commission from Brussels and from the EU Delegation to Georgia, as well as delegates from relevant business associations and the National Association of Local Authorities of Georgia all took part in the event.