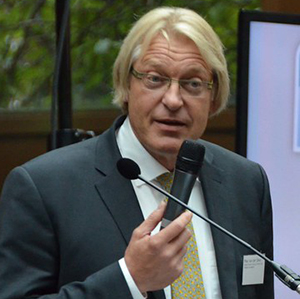 Mr. Van Der Sleen has over 40 years of professional consulting experience across 50 different countries in Europe, Africa, the Middle East and Asia.
He occupied the position of CEO and Chairman of the Board of Management at Ecorys Netherlands, where he was primarily responsible for leading the development of the company's strategy, operational performance, market renewal, and product innovation. By elaborating and implementing meaningful policies, Mr. Van Der Sleen significantly contributed to the company's overall international advancement.
Over the decades, Mr. Van Der Sleen has worked for the Netherlands Economic Institute, where he enriched his expertise in port infrastructure, rural development, environmental protection, water infrastructure and economic cooperation policies.
In 2013, Mr. Van Der Sleen founded the True Welfare Foundation, focusing on top business and society leaders, whose decisions determine how private and public enterprises, financial institutions, governmental organizations and civil society & consumer organizations will develop in the coming years. The Foundation ensures the maximization of material welfare and the safeguards society's well-being.
To complement his long and diverse experience, Mr. Van Der Sleen also has a strong academic background. He holds two master's degrees, one in Development Economics and International Development from the University of East Anglia, and the other in Social and Institutional Economics from the University of Groningen. He is fluent in Dutch, English and German and competent in French.