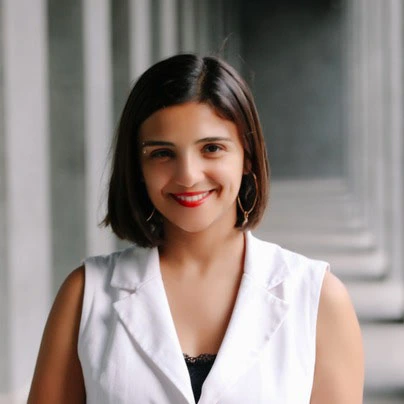 Ms. Mariam Koshadze currently holds the position of Project Manager at PMCG. In her role, she oversees the entire life-cycle for all projects, from initiation to closure. This involves coordinating, monitoring, and evaluating the activities of researchers and consultants alike. Moreover, Ms. Koshadze is responsible for budget oversight, risk assessment, and ensuring the quality and punctual delivery of project documents. In addition, she communicates effectively with project stakeholders to define the given project's scope, goals, deliverables, required resources, budget constraints, and timeline. Also falling within her comprehensive purview is proposal management.

Ms. Koshadze brings a wealth of valuable experience to the role, having worked in the NGO and business sectors, dedicating many years to assisting, managing, and delivering a diverse range of projects and programs.
Prior to joining PMCG, she held the position of Claims Handler at the world-leading MSC – Mediterranean Shipping Company. In this role, Ms. Koshadze refined key skills through meticulous investigation of claims and productive communication with diverse stakeholders, while demonstrating a steadfast commitment to compliance and policies. The abilities gleaned from this experience are now invaluable assets, contributing to her ensuring the seamless execution of projects and adeptly managing potential risks.

Ms. Koshadze's professional journey also included a stint as Program Manager at "STARacademy," where she took charge of the Work and Travel USA initiative, a cultural exchange program. Here, she played a pivotal role in overseeing the program from inception to completion. Among her primary responsibilities were engaging with diverse stakeholders, participant selection, liaising with partners and employers, and organizing a wide spectrum of activities. As the Program Lead, her impactful efforts enabled over 300 Georgian students to savor a cultural exchange experience.
Her career path has also encompassed substantial involvement in the NGO sector. At SIQA Georgian Association of Educational Initiatives, in her positions as Youth Worker and Peer Educator, she gained important expertise in addressing and understanding youth issues needs. Elsewhere, while serving as Regional Program Coordinator for the USAID-funded program "Future Generation," Ms. Koshadze showcased her dedication to community projects, advocacy, and project administration. Specifically, her extensive work with ethnic minorities in the Kvemo Kartli region broadened her comprehension of unique local needs. In this role, she contributed notably to executing projects aimed at raising awareness about child marriage within ethnic Azerbaijani communities, giving young girls information and support to protect their rights and resist forced marriages.

Furthermore, Ms. Koshadze has worked on donor-funded projects with organizations such as the East-West Management Institute, ChildFund in Georgia, and Sport Against Racism Ireland (SARI).

She holds both a bachelor's and a master's degree in law from Tbilisi State University. Meanwhile, she is fluent in both Georgian and English, with working proficiency in Russian.