Tbilisi City Hall Improves HR Management System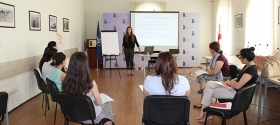 14.07.2015
The ongoing public service reforms set the challenges of transparency and effectiveness for Georgian government institutions. With this in mind, on July 11, PMCG organized a training on Recruitment and Effective Job Interviews at Tbilisi City Hall in order to raise the awareness of the latter's management and staff about interviewing techniques and other basic aspects of HR management.
PMCG consultants introduced the participants to the concepts of recruiting, employer branding and psychological contracts as well as the stages of the employee selection process. Furthermore, consultants outlined the importance of effective job interviews and talked about basic interviewing techniques, atmosphere and the structure of the interview.
To ensure the training's effectiveness, each training module was followed by practical assignments and interactive discussions on the relevant problems. By the end, City Hall representatives were able to participate in role-play interviews, demonstrate their skills and obtain feedback from a mentor.
Raising key HR personnel's awareness about the basic issues of recruiting and interviewing is a prerequisite for more professionally-conducted job interviews and a more effective employee selection process at Tbilisi City Hall. Ultimately, this will contribute to a more transparent and trustworthy public sector for all citizens of Georgia.
The training was held under the USAID Good Governance Initiative (GGI) Program, led by Tetra Tech.