Supporting Tajikistan to Strengthen its Strategic Planning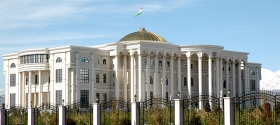 15.02.2018
We recently launched a project supporting the Department of Strategic Planning and Reforms of Tajikistan to strengthen its strategic planning and policy coordination and to ensure better integration of strategic decisions and current policies.
PMCG will provide institutional assistance, which will entail improving the legal framework of strategic planning, enhancing the capacity of the Department and other relevant ministries and agencies in issues related to development, monitoring and evaluation of strategic documents, as well as developing a methodology for strategic planning and developing templates for strategic development plans in specific sectors (education, health, social protection, agriculture, energy, transport and communication, land works, water economy and culture).
The project is being implemented as part of the World Bank (WB) Public Finance Management Modernization Project II (PFMII), which is focused on strengthening budget planning and execution, treasury, accounting and financial reporting functions across government entities by supporting the modernization of automated financial management systems.
In order to achieve its objectives, PMCG will work in three main directions. First of all, it will review the existing regulatory framework for strategic planning and recommend and provide drafts regarding amendments to laws, and the adoption of new laws. Moreover, it will develop a strategic planning methodology and templates for sector strategies, and will deliver trainings to ensure effective implementation.
As a result of the collaboration, the Government of Tajikistan will become suitably equipped to more effectively and transparently plan and execute its budget.