Supporting Enterprise Georgia to Enhance its Institutional Capacity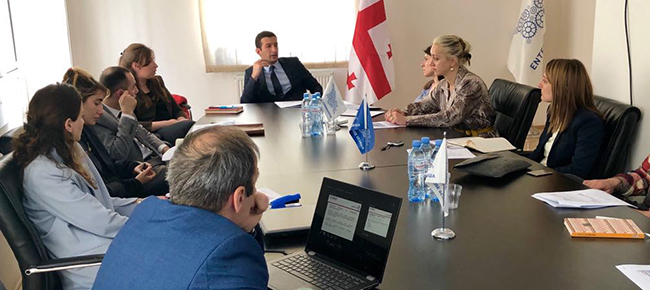 25.04.2019
We recently launched a new project aiming to strengthen the organizational performance and bolster the institutional effectiveness of Enterprise Georgia.
Enterprise Georgia is a subordinated agency of the Ministry of Economy and Sustainable Development of Georgia and it serves as a major private sector support institution, providing assistance and services to small- and medium-sized enterprises (SMEs).
In order to ensure the effective implementation of its core functions, we will analyze the mission, goals and functions of Enterprise Georgia, review its existing organizational structure and legal documents, identify gaps between existing and optimal organizational capacities, and elaborate recommendations to increase the quality of its services.
"Institutional performance assessment will support Enterprise Georgia to increase its institutional effectiveness as well as enable it to better attract foreign direct investments. As a result of enhanced institutional capacity, Enterprise Georgia will meet challenges more effectively and elaborate private sector support innovation methods and programs," said Mikheil Skhiereli, Consultant at PMCG.
The project is being implemented under the USAID Georgia Human and Institutional Capacity Development (HICD) 2020 Activity, which is led by Mendez England & Associates (ME&A).
Please kindly follow the link below for detailed information about the project:
Conducting Institutional Performance Assessment of Enterprise Georgia