Supporting Albania's EU Integration by Sharing Experience of Successful Institutional Reforms in Georgia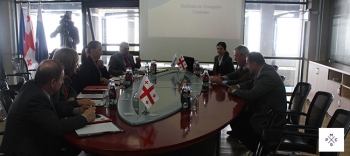 11.11.2014
On November 6-7, Policy and Management Consulting Group (PMCG) hosted an official delegation from Albania.
High-ranking officials from Albania on the visit included: Arben Malaj, President of the Institute of Public Policies and Good Governance and former Minister of Finance and Economy of Albania; Koli Sinjari, Vice President and Director of International Relations and Projects of Biznes Albania; Enis Hoxha, Vice Chief Registrar at the Albanian Immovable Property Registration Office (Ministry of Justice); Valbona Sako, Director of the Regional Taxation Directorate of Durres city; Elida Fara, Head of Sector, General Directorate of Revenues and Fiscal Public Policies in the Ministry of Finance and Anduena Dedja  Chief of promotion competitiveness sector in the Department of support entrepreneurship, in the Ministry of Economic Development, Trade and Entrepreneurship.
The event aimed to share Georgia's experience in implementing a number of structural reforms and strengthening institutional capacities in the following areas:
Regulatory Framework/Business Enabling Regulations;
Public Finance Management (PFM), Transparency, E-governance;
Public Service Management – Registration of Business, Issuing Licenses etc.
In order to ensure in-depth understanding of reforms, PMCG organized meetings with the officials of relevant institutions directly involved in the development and implementation of the reforms. This granted the visitors an opportunity to see the reform results on the ground, visiting the following: Service Center of the Ministry of Internal Affairs in Rustavi; Customs Clearance Zone (GEZI-Customs); Service and Monitoring Center of the Ministry of Finance; Procurement Agency; Public Service Hall and Service Center of Revenue (Tax) Service.
The study tour was organized as part of the project "Sharing experience of Visegrad countries' EU economic integration for Albania", financed by the International Visegrad Fund and implemented by PMCG and IPPM, in collaboration with a consulting group forTED (Kosovo) and with the leading organizations from the Czech Republic, Slovakia and Hungary (EUROPEUM, M.E.S.A10 and Hungarian Europe Society).