Streamlining Construction Code and Spatial Planning in Georgia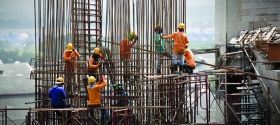 24.08.2016
PMCG, as part of the consortium led by PricewaterhouseCoopers (PwC) Georgia, within the Good Governance Fund (GGF) project, is supporting the Ministry of Economy and Sustainable Development of Georgia (MoESD) to reform the construction code in Georgia.
PwC and PMCG are conducting a regulatory impact assessment (RIA) of the spatial planning and construction code. The RIA will help decision makers to assess the impact of the new code and establish necessary steps to effectively implement the code.
All stakeholders, such as the MoESD, the Government of Georgia, the Parliament and the wider population, will obtain information on the direct and indirect effects of the draft code and challenges resulting from administrative and legal issues.
The GGF aims to support a series of governance and economic reform initiatives in Bosnia and Herzegovina (BiH), Georgia, Moldova, Serbia and Ukraine and is funded by the UK government. It will provide flexible technical assistance, enabling a significant contribution to the following three GGF outcomes:
More informed and active populations that can hold their governments to account;
Demonstrable and perceived open, accountable and responsive governments;
Higher rates of investment and job creation to support inclusive growth.