Sharing Results of Research – "Russia's Disinformation Campaigns in Georgia: A Study of State and Civil Society Response" – with Representatives of the Ministry of Foreign Affairs of Georgia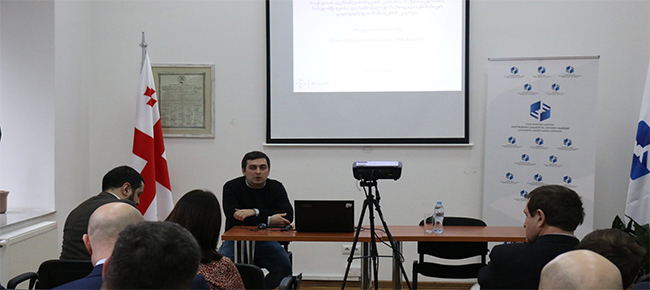 23.01.2020
On 22 January, a presentation of the research paper entitled "Russia's Disinformation Campaigns in Georgia: A Study of State and Civil Society Response" was held at the Levan Mikeladze Diplomatic Training and Research Institute of the Ministry of Foreign Affairs of Georgia. The presentation was attended by the staff of the Ministry.
The main purpose of the research was to examine in detail the nature and aims of Russian propaganda and disinformation campaigns in Georgia, as well as the steps being taken by the Georgian state and Georgian civil society organizations (CSOs) in response. The research paper looks in depth at the methods deployed in the Russian disinformation campaigns in Georgia, describing and evaluating the countermeasures adopted so far by the State and civil society, and ultimately presenting relevant policy recommendations.
"To effectively counter the threat of Russian propaganda and disinformation campaigns, it is important that the Georgian state presents a more strategic view of what the integral conceptual and institutional measures are in order to thwart the disinforming state. Improved state and civil society, as well intra-civil society, cooperation is also vital to not only fight the quotidian consequences of the Russian disinformation campaigns but also to deal with the root causes of the problem," said Irakli Sirbiladze, associate consultant of PMC Research.
The research was conducted by PMC Research with the support of Policy and Management Consulting Group (PMCG). It was carried out as part of a project entitled "Public Policy Discourse and Dialogue Platform" which strives to initiate discussion and cooperation on economic issues between various parties.
Please kindly follow the link below to read the research paper in full:
Russia's Disinformation Campaigns in Georgia: A Study of State and Civil Society Response