Sharing Experience of Transforming Economies with George Washington University Students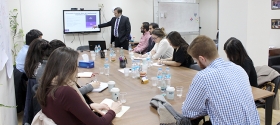 27.03.2018
We had the pleasure of hosting a delegation from George Washington University (GWU) with whom we shared PMCG's experience in transforming economies and changing institutions on March 14.
Aleksi Aleksishvili, CEO and Chairman at PMCG, delivered a presentation to around 20 students headed by Dr. Tom Geurts, Associate Professor at GWU, about economies in transition and how a suitable reform agenda helps to overcome problems and challenges while introducing economic policy changes. While the main focus was on Georgia's socio-economic and public administration reforms, the discussion also covered other countries from a variety of regions (Balkans, Eastern Europe, Caucasus, Central Asia, Middle East and Africa).
Aleksishvili, together with the students, discussed crucial components of a successful reforming process, including: liberal fiscal and trade regimes; improved budget policy and public services; structural reforms; fighting corruption; privatization; legal framework; and property rights.
With over decades of sound experience of supporting countries in transition to facilitate key public finance management reforms, Aleksishvili also emphasized the main barriers likely to be faced when introducing reforms. Special attention here was dedicated to the role of international development institutions, including USAID, in the process of reforming countries in transition, while he also highlighted more recent challenges and the steps that should be implemented to strengthen the achieved results and to sustain the development process.
"Collaboration with universities and communication with students is very important for PMCG, especially when it comes to supporting students in the process of preparing for work in the field of international development. We at PMCG believe that the progress of countries in transition depends on having highly motivated young professionals dedicated to the delivery of progress and achieving a real impact," explained Aleksishvili.