Sharing Experience of Implementing Structural Economic Reforms in Georgia at Public Lecture at JVI, Austria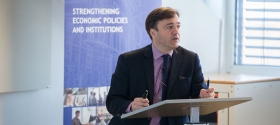 15.09.2016
On September 7, Aleksi Aleksishvili, Chairman and CEO of PMCG, gave a public lecture at the Joint Vienna Institute (JVI) in Vienna, Austria.
Before and after the presentation, Aleksishvili met invited public sector officials from Eastern Europe, the Caucasus, and Central Asia, as well as representatives of academia. The lecture was dedicated to these regions and described historic and recent challenges and how these could be overcome.
The lecture was given within the framework of a training course about structural reforms organized by the JVI, which aimed to present the rationale behind implementing structural reforms, to introduce a framework for identifying reform priorities, and to improve participants' abilities to formulate reform agendas and implementation strategies.
Special attention was paid to the lessons learnt, specifically the barriers and challenges encountered in the process of implementing social and economic reforms.
Aleksishvili has more than 15 years of working experience in public finance and economic development policy as a high-level government official and government adviser. While working as Minister of Finance of Georgia between 2005 and2007, he successfully introduced complex economic reforms, resulting in economic deregulation and liberalization. Notably, Georgia was ranked the world's top reformer country by the World Bank (WB) "Doing Business" survey for 2005-2010, and the country rose from 132nd place to 18th in the ranking of "Ease of Doing Business" by the WB from 2004 to 2007. Therefore, those attending the lecture gained valuable insight from Aleksishvili's first-hand accounts of economic reform.
The JVI is a cooperative venture of six international organizations and Austrian authorities (Oesterreichische Nationalbank and Ministry of Finance). In 2002, the IMF and Austria decided to turn the JVI into a permanent training institution to support and supplement the national efforts of JVI-eligible countries.