Monthly Tourism Update (September, 2020)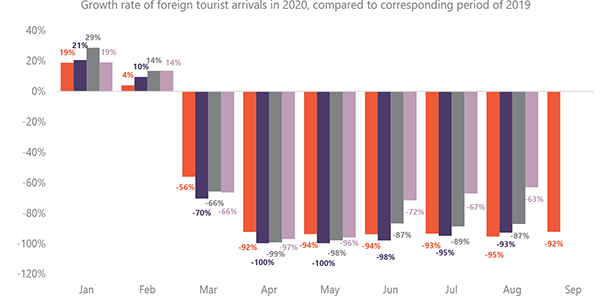 21.10.2020
The number of international travelers declined by 94.2% in September compared to the same period of 2019, while the number of inter- national visitors fell by 93.6% and the number of international tourists fell by 92.2%. Georgia experienced a fall of more than 90% in the number of foreign arrivals every month since April, compared to the corresponding period of 2019;

In the first three quarters of 2020, revenues from international travel amounted to US$499 mln, which is 81% lower than for the same period of 2019;

The price changes in Adjara, Guria, and Samtskhe-Javakheti are the most representative of tourism's decline. In September 2020, the year over year Hotel Price Index decreased by 39.2% in Guria, 33.4% in Adjara, and 24.3% in Samtskhe-Javakheti;

Looking at countries that have reopened tourism quickly with no restrictions, some have managed to recover a sizable portion of their arrivals, such as Albania, while others, like North Macedonia and Serbia, have not been so successful. Indeed, the decrease in the number of arrivals to the latter two countries has been comparable to that in Georgia, which has maintained significant travel restrictions.