National Governance Program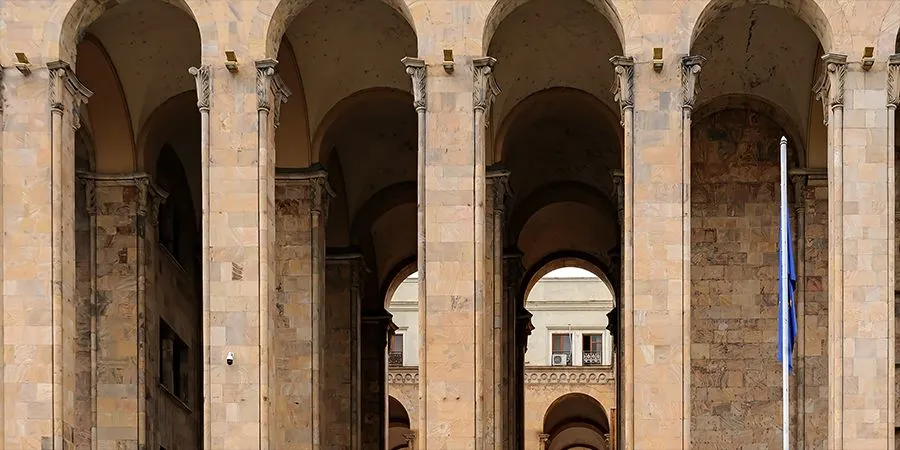 PMCG, as a subcontractor of DAI Global, is implementing the USAID-funded "National Governance Program in Georgia."
The Program aims to increase government accountability and responsiveness to citizens by enhancing the effectiveness, transparency, and accountability of governing institutions, boosting the efficiency and independence of oversight institutions, and empowering citizens to hold their government to account. Moreover, it envisages supporting the national government to strengthen the cybersecurity capabilities of key institutions to ensure the resilience of governance systems against cybersecurity threats posed by their digitalization. In addition, key institutions will be supported both within the executive and legislative branches in the course of the Program.
During the Program, PMCG is conducting the following range of activities pursuant to its objectives.
Increased effectiveness, transparency, and accountability of governing institutions
This activity is prioritizing reforms aimed at improving the transparency and accountability of government institutions. This includes upping standards and easing access to public information, improving policy planning and implementation through evidence-based decision-making, and embracing participatory processes and monitoring the Program's implementation. This may include: improving public financial management (PFM) systems including internal control standards and practice; tightening civil service coordination and management; enhancing e-governance systems for greater transparency and effectiveness; opening up access to public information; and ensuring more citizen-responsive service delivery. The activity is also pursuing digital innovations in governance including through partnering with private sector actors. In addition, it is expected to analyze and consider the different needs of female and male citizens while supporting the public administration reform (PAR) and prioritizing approaches addressing pressing needs and inequalities.
The activities also include cybersecurity activities aligned with the 2021-2024 Georgian National Cybersecurity Strategy. This encompasses strengthening cybersecurity governance and coordination frameworks including through the development of tailored cybersecurity awareness training for government decision-makers across all branches of government to encourage buy-in and facilitate the adoption of cybersecurity measures and policies laid out in the Strategy. Meanwhile, further support is being provided to build up a sustainable cybersecurity workforce.
Increased effectiveness and independence of oversight institutions
The Program prioritizes working with the Parliament to ensure effective oversight of government performance as well as ensuring inclusive evidence-based lawmaking processes.
The activity puts an emphasis on both promoting a power-sharing culture within the Parliament and empowering minority parties. It is also exploring the expansion and formalization of mechanisms in the Parliament, such as the practice of holding open public hearings on important legislation. This presents an opportunity for civil society organizations (CSOs), businesses, and other citizen groups to participate formally in the development of laws in both oral and written form, and suggest amendments to draft legislation to be considered at committee level. This maximizes public input and facilitates the passing of laws that have public support. Furthermore, it provides both majority and minority members of legislative committees with clear opportunities to amend legislation in a way that reflects citizens' priorities.
Increased citizen demand for government accountability
The activity addresses the issues of the low level of citizen trust and limited public participation in policymaking and government oversight processes. To tackle these difficulties, support is given to locally led civic movements and actions focused on issues of citizens' concern and facilitating partnerships between civil society and the private sector to join forces to push policies and conduct oversight activities. This may include the development of digital monitoring tools to identify corruption risks in public procurement, exploring partnerships with the private sector to encourage greater integrity in their practices, conducting public awareness-raising campaigns, and effectively utilizing the data journalism sector. The activity will explore best international practices, especially those implemented in the region or in similar contexts including through establishing formal or informal partnerships and peer learning platforms.
Anticipated Impact and Outcomes
The National Governance Program in Georgia is improving:
Policy planning, coordination, and the monitoring and evaluation practices of governing institutions including through increased availability and use of public engagement mechanisms;
The financial management and internal control systems of state institutions;
Access to public information including through more proactive disclosure of public information, greater availability of open data; improved capacity to collect, track, analyze, and use public service delivery data; and wider availability of innovative digital tools;
Management and operation of the civil service in line with the principles of being merit-based, professional, and free of political influence;
Institutional capacity across national government bodies to mitigate cybersecurity risks including through training a new cadre of professionals with a unified, cutting-edge curriculum, and facilitating public-private partnerships to ensure growth and stability in the sector;
Oversight and law-making capacities of the Parliament to ensure effective monitoring of government performance and evidence-based and inclusive law-making processes, and strengthened capacity of the State Audit Office to conduct impartial and quality audits of government performance and spending, as well as improved data communication and engagement with key stakeholders, including the Parliament and citizens.
Ultimately, the Program is enhancing the independence and capacity of key oversight institutions, as well as promoting public engagement in law-making and oversight processes through the establishment or strengthening of public engagement platforms. In addition, it seeks to increase public engagement by empowering civil society and private sector coalitions to influence policymaking and demand greater accountability. Furthermore, it aims to improve the availability and quality of research and data on governance-related topics, including corruption and government performance monitoring. This includes raising public awareness of and engagement in existing open government and social accountability partnerships.