Product Selection for Value Chain Analysis Discussed in Adjara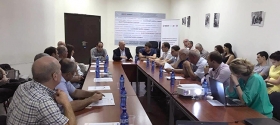 29.09.2017
On September 23, PMC Research hosted a working meeting to discuss and select the most valuable agricultural product for Adjara in order to conduct a value chain analysis (VCA), as part of the European Commission (EC) project "Regional Civil Society Organizations as Vectors of Rural Economic Development".
The event was attended by Avtandil Meskhidze, the Minister of Agriculture of Adjara, representatives of regional civil society organizations (CSOs) and other interested parties.
Tangerine, garlic, dried fruit and cranberries were shortlisted as the most relevant products. In the end, participants agreed to conduct a VCA on tangerines.
"Citrus is one of the key areas for Adjara's agricultural sector and its further development determines the economic sustainability of the region, increases its export potential and socio-economic well-being of the farmers", said Mr. Meskhidze during the meeting.
Meanwhile, on September 20-24, PMC Research conducted trainings for regional CSOs in methods of VCA to enhance the capacity of organizations.
PMC Research is implementing the project together with People in Need (PIN), the Rural Communities Development Agency (RCDA), and the Association ATINATI to support rural economic development and to stimulate the agricultural sector in Georgia.