Press Release: Possible Consequences of Georgia-China Free Trade Agreement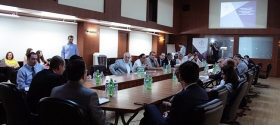 24.07.2015
The study showed that a free trade agreement between Georgia and China has great potential. Georgia's export to China would increase by 9% approximately, in the short-term period including significant growth of wine exports (28.5%) and non-alcoholic drinks (36.7%). On the other hand, imports from China would increase by 1.7%.
The study has crucial importance, as further negotiations between the two countries about the agreement will be based on its results.
The comparative analysis of Georgia's foreign trade and trade with China shows that a free trade agreement may increase export of goods and services in new directions as well.
Please follow the link below for full press release:
English Press Release
Georgian Press Release