Presenting New and Simplified Financial Reporting Standards to SMEs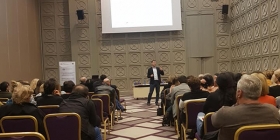 23.11.2018
On November 21-22, an informative-consultative meeting of 4th category enterprise representatives took place in Batumi and Telavi. The event was intended to increase awareness of representatives of small- and medium-sized enterprises (SMEs) regarding new financial reporting standards by presenting to them recent updates and self-learning materials.
Over 150 representatives from SMEs, training centers and the Service for Accounting, Reporting and Auditing Supervision (SARAS) participated in the event.
"SMEs play a key role in the economic growth of Georgia and simplified financial reporting standards will enable them to comply with various international and national standards and expand their production," said PMCG's consultant Nino Khatisashvili. Moreover, the presentations were interactive and triggered interesting discussion about the challenges faced by 4th category enterprises.
The new accounting and reporting standards for SMEs should improve the quality and transparency of corporate financial statements, enable easier compliance with obligations, reduce administrative burdens, and provide an opportunity to focus on business growth and access to finance.
The meetings were organized as part of the Good Governance Fund (GGF) project "Corporate financial reporting support for 4th category enterprises," which is being implemented by PMCG, as part of a consortium led by PricewaterhouseCoopers (PwC), in cooperation with the SARAS.
Please kindly follow the link below for detailed information about the project:
Good Governance Fund