PMCG's CEO Discusses Georgia's Democratic and Economic Development Prospects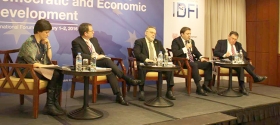 4.02.2016
On February 2, Aleksi Aleksishvili, PMCG's Chairman and CEO, participated as a panelist in a discussion about Georgia's economic development within the framework of the international forum "Prospects of Georgia's Economic Development".
Aleksishvili noted the major contributors to Georgia's economy and discussed the country's main economic challenges including Foreign Direct Investment (FDI import-export), Balance of Payments (BoP), exchange rate, remittances, governance and economic policy issues.
He spoke about the best mechanisms for economic development and growth of GDP and stressed the benefits of diversifying the economy, as well as openness and integration in the regional and world economy. Aleksishvili added that facilitating capital market development and streamlining tax policy and administration were also very important components of progress.
"The Government of Georgia must use the process of DCFTA implementation, reach additional free trade agreements with other partners efficiently and create incentives for foreign companies to produce and serve other countries from Georgia", explained Aleksishvili.
The forum was organized by the Institute for Development of Freedom of Information (IDFI), in partnership with the University of Bremen and with the financial support of the Federal Foreign Office of Germany.