PMCG Participates and Presents at the 11th Vienna Economic Forum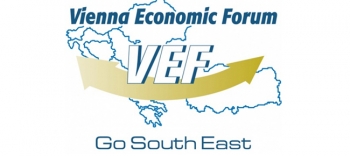 24.11.2014
On November 24, Aleksi Aleksishvili, General Director at Policy and Management Consulting Group (PMCG) participated at the 11th Vienna Economic Forum.
Aleksishvili talked about the impact of PMCG's support given to countries in the Balkans to improve Public Financial Management (PFM) and develop business-enabling environments.
"It is our privilege to be part of this event. We are glad to use this opportunity to share our experience and hear about our partners' activities in countries in the Balkans and the Eastern Europe," stated Aleksishvili.
The annual forum was officially launched in 2004 and since then the event has been focused on promoting economic cooperation between countries from the Adriatic to the Black Sea. The Forum brings together around 300 high-level officials from all across the world.
Elena Kirtcheva, Member of the Board and Secretary General of Vienna Economic Forum, opened the event with a panel discussion "The Economy is the Motor – Visions and Responsibilities in a Changing Time". The keynote speakers of the panel included: Edi Rama, Prime Minister of Albania; Nikola Gruevski, President of the Government of the Republic of Macedonia; Milo Djukanovic, Prime Minister of Montenegro; Sir Suma Chakrabarti, President of European Bank for Reconstruction and Development (EBRD); Werner Faymann, Federal Chancellor of the Republic of Austria; and Erhard Busek, President of Vienna Economic Forum and former Vice Chancellor of the Republic of Austria.
At the Forum there were several other panel discussions, covering topics related to information technology and energy efficiency, as well as the role of cooperation between the Black Sea and the Danube region and the crucial linkage role this plays now, and will continue to play in the future.