PMCG Launched New Project in Azerbaijan to Support Fiscal Policy Reforming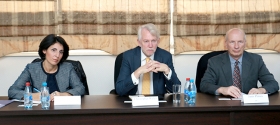 8.11.2016
PMCG has launched its new project in Azerbaijan, under a European Commission (EC) project and as part of the consortium led by ADE entitled "Support to the Center for Analysis and Communication of Economic Reforms under the President of the Republic of Azerbaijan in legislative, institutional and economic reforms in the fiscal sector".
The project team has already arrived in Baku, to gain an in-depth understanding of the local environment and arrange meetings with government officials, including representatives of the Cabinet of Ministers, the Parliament, the Central Bank, the Accounting Chamber, as well as academics, private sector, civil society and EU representatives.
The team will review the current state of fiscal policy in Azerbaijan, including the budget system, tax code, available finance statistics, and existing rules and guidelines.
Ultimately, the Center, will receive a detailed review report on any weaknesses and gaps in the current fiscal policy and institutional setup, information on the European best practice in the institutional setup in the fiscal field, and clear and detailed recommendations for improvement on these issues.