PMCG Consultants Contribute Expertise to Cross-Border Electricity Trading Summit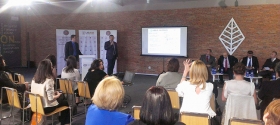 1.06.2016
On May 31, PMCG participated in the Cross-Border Electricity Trading Summit organized by the USAID Governing for Growth program and held in Technology Park, Tbilisi, Georgia.
The event aimed to introduce the Electricity Trading Mechanism (ETM) as a tool to enable competitive electricity trading in the domestic and export (primarily Turkish) markets. The summit was divided into three panels: Development of Competitive Electricity Market in Georgia; Turkish Electricity Market and Cross-Border Electricity Trading; and Hydropower Investments in Georgia.
PMCG experts Zoran Vujasinović and Dejan Stojčevski introduced customs and electricity trading details, and shared Serbian experiences of electricity market development.
The position of Serbia is considered similar and the most appropriate experience for Georgia to call upon when implementing the ETM and in creating a business environment that enables efficient market and cross-border trading.
The event was attended by a variety of stakeholders, such as: Mr. Kakha Kaladze, Vice Prime Minister and Minister of Energy of Georgia; Mr. Thomas Morris, USAID Caucasus Deputy Mission Director; Mr. Jake Delphia, Senior Energy Expert, USAID│G4G; Mariam Valishvili, Deputy Minister, Ministry of Energy of Georgia (MoE); Irina Milorava, Chair, Georgian National Energy and Water Supply Regulatory Commission (GNERC); Sulkhan Zumburidze, Chief Executive Officer, Georgian State Electrosystem (GSE); Vakhtang Ambokadze, General Director, Electricity System Commercial Operator (ESCO); Cem Aşik, Chairman, Energy Traders Association (ETA), Turkey; Joseph Melitauri, Senior Operations Manager, World Bank; and representatives of Turkish Energy Regulator (EMRA), Energy Traders Association, and Turkish Electricity Transmission Company (TEIAS).