PMCG Consultants at Regional Trade and Transport Forum: Challenges of Transit vs. Opportunities for Trade in Uzbekistan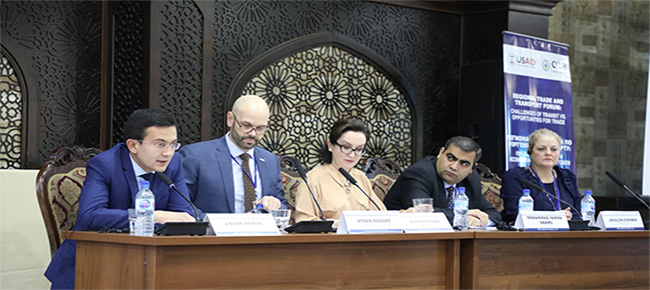 4.12.2019
On December 3-4, PMCG experts participated in the Regional Trade and Transport Forum: Challenges of Transit vs. Opportunities for Trade in Termez, Uzbekistan.
The forum was organized with the support of USAID's project entitled "Competitive Trade and Jobs (CTJ) in Central Asia" and was co-hosted by the Ministry of Transport of Uzbekistan.
PMCG, in association with DAI International , is involved in the project. At the forum, our consultants delivered presentations on various impediments to transit such as policies, border crossings, tariffs, and infrastructure. Moreover, they also participated in panel sessions which were collectively presented as Rail and Connectivity: Opportunities and Challenges.
"The objectives of the Forum included identifying the policy, operational and infrastructural issues along road and rail transport corridors linking Afghanistan and Pakistan with Central Asian trading partners. A new transit study was announced, which is intended to capture information about transit route costs and durations, and to identify the reasons behind delays and duplication. The recommendations, if and when implemented, will help to accelerate transit exports to market and help to create more predictable supply chains," stated Project Team Leader, Jan Leonard Tomczyk.
The CTJ is a 6-year project, covering Kazakhstan, the Kyrgyz Republic, Tajikistan, Turkmenistan, and Uzbekistan, and aims to increase the competitiveness of Central Asian economies in order to increase their exports in horticulture and to improve the transport and logistics sectors that operate regionally to reduce the duration and cost of trading across borders, and to create or maintain jobs.