Opportunities of High Mountainous Regions of Georgia Discussed with Local Municipalities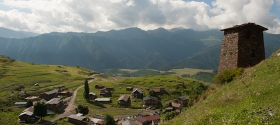 5.10.2016
Across September 15-30, PMCG held meetings with representatives of the mountainous regions of Georgia, under the UNDP project Fostering Regional Development in Georgia.
The meetings were held in Adjara, Guria, Samtskhe-Javakheti, Kakheti, Samegrelo-Zemo Svaneti, Racha-Lechkhumi, Shida Qartli, Qvemo Qartli and Mtskheta-Mtianeti regions, with the idea to discuss major challenges and opportunities faced by specific regions in their further development.
The results of the discussions will contribute to the identification of the vision and mission of high mountainous settlements of each region, and will be reflected in the strategy of the regions' development, as well as the action plan, and monitoring and evaluation framework.
It was revealed that mountainous populations need to be empowered and their livelihoods must be improved, to support them to take responsibility for the preservation of natural resources and economic development.
The project is being implemented as part of a project funded by the United Nations Development Programme (UNDP), prompted by the desire of the Government of Georgia to raise the standards of living, to promote employment and to improve the economic and social standards of citizens living in high mountainous areas.