Meet Our New Project Manager, Tamar Medulashvili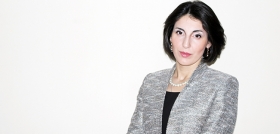 21.03.2016
We are happy to announce the arrival of our newest team member, Tamar Medulashvili, who will join us from April 11 as a Project Manager. At the same time, we would like to congratulate the departing Nino Samvelidze, who has been appointed as a Programme Manager for Culture, Youth and Minorities at the European Union Delegation to Georgia.
We welcome Tamar, who previously worked as Deputy Director of the Information Center on NATO and EU and has more than 10 years of impressive working experience in EU-related topics. Indeed, her credentials give us great confidence that she will be a big success at PMCG.
As a Project Manager, she will be responsible for coordinating, managing and developing the scope of EU-related projects and activities. Tamar will be in regular communication with international partners and experts, and will represent the company at local and international forums.
Finally, we would like to once again thank Nino for 2 fruitful years of working with us and for the important role she has played in accomplishing tangible results in EU-related projects. We wish Nino every success in her career and in her new position.