Making Budgeting More Transparent and Accountable in Akhaltsikhe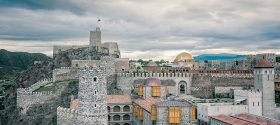 6.01.2017
PMCG is collaborating with Akhaltsikhe City Municipality to enhance the transparency and accountability of its budgeting process, as part of a consortium led by Tetra Tech ARD under the USAID Good Governance Initiative Program.
In order to reach its goals, the project team will assist the Municipality to define mid-term priorities, directions and programs for 2017 and formulate and implement a needs-oriented 2017 program budget.
Furthermore, the team will develop an evaluation and monitoring framework for budgetary processes to institutionalize monitoring and evaluation processes with regards to the implementation of programs and sub-programs.
In addition, PMCG will assist the Municipality to develop a Citizens' Guide to enable the city of Akhaltsikhe's citizens to better understand the local budget for 2017.
Ultimately, the transparency and openness of the administration of Akhaltsikhe will be enhanced and its citizens will have better access to independent, reliable and balanced information.