Key Stakeholders Meet to Develop Georgia's Tourism Strategy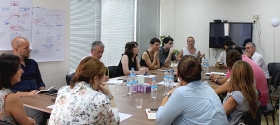 6.09.2017
On August 31, PMCG hosted a working meeting with representatives of the tourism industry from government and the private sector to share the views of Georgian tourism stakeholders about the current positioning and branding of Georgia on the international market.
The meeting was held under the World Bank project entitled "Tourism Marketing, Promotion, Online Coverage and Destination Management for Kakheti and Imereti Regions in Georgia". Together with consortium lead – Ecorys Polska, PMCG held discussions with representatives of the Georgian National Tourism Administration (GNTA), the Agency of Protected Areas of Georgia (APA), Georgian Tourism Administration (GTA), and Georgian Airways, among others, and listened to their opinions regarding the main tangible and intangible factors that make people interested and excited about visiting the country.
The information and feedback obtained from various stakeholders is of crucial importance to develop an effective strategy for the promotion of Georgia as a tourism destination.