Introducing New Sustainable Waste Management System to Residents of Kakheti Municipality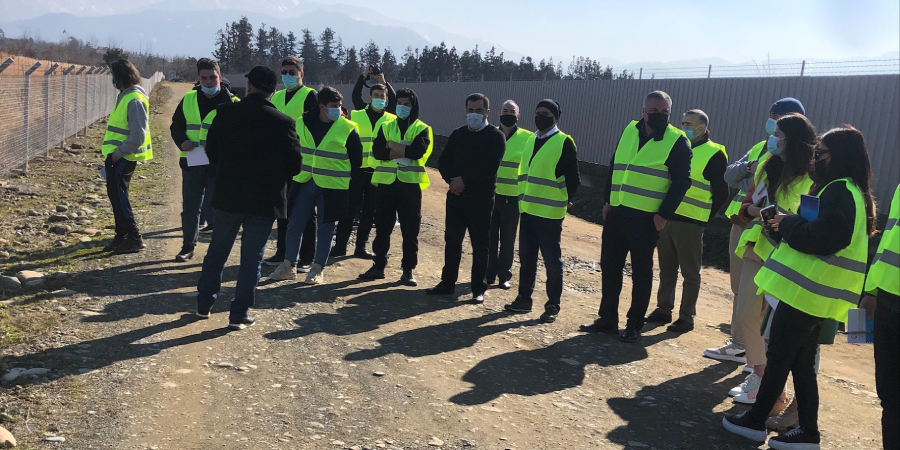 4.03.2022
On February 17, we conducted a study visit to the landfill of the Autonomous Republic of Adjara with residents of Gurjaani Municipality (Kakheti region), as well as representatives of local NGOs and the Solid Waste Management Company of Georgia (SWMCG), to see this new non-hazardous waste landfill and to explore how it works.
The study visit was held as part of the "Integrated Solid Waste Management Programme II, Kakheti, and Samegrelo-Zemo Svaneti Regions, Georgia: An Accompanying Measures Consultancy Service," which concerns the construction of new regional sanitary landfills and transfer stations, equipping municipalities with appropriate technical means, and closing existing landfills in Kakheti and Samegrelo-Zemo Svaneti regions.
The visit included a question-and-answer session and the residents of Gurjaani Municipality were encouraged to ask all kinds of questions about the commissioning and future operations of the facility, and to generally explore this modern infrastructure.
While visiting the facility, Nodar Kontselidze, Director of the Adjara Solid Waste Management Company, and Giorgi Shukhoshvili, Director of the Solid Waste Management Company of Georgia, introduced the basic principles of construction and operation of a new non-hazardous waste landfill to the visiting participants.
"We were interested in the study visit, because this process of waste disposal is difficult to understand, besides a lot of waste and household substances are dumped in the wrong places, where they are very polluting to the soil or air. We, the young generation, want to know more, want more support, and want to get involved in the development of our municipality," said Nikoloz Pridonishvili, a resident of Gurjaani Municipality (Kakheti).
In addition, in the course of the project's communication campaign, this study visit also took in potential locations for a new landfill in Kakheti region, while safety aspects and features were explained and discussed, and detailed information was shared about the characteristics, specifics, and standards of a modern landfill.