International Investment Forum Organized by PMCG is Underway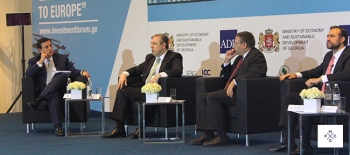 29.10.2014
On October 29, "Georgia – Regional Hub and Asia's Gateway to Europe", the first International Investment forum held by the Asian Development Bank (ADB) together with the Ministry of Economy and Sustainable Development and organized by Policy and Management Consulting Group (PMCG) got underway.
Irakli Gharibashvili, Prime Minister of Georgia and Wencai Zhand, Vice President (Operations 1) of the ADB officially opened the forum, with an introductory panel discussion entitled "Why Georgia Matters".
Later, the world's economic trends and perspectives for the upcoming years were discussed by Giorgi Kvirikashvili, Vice Prime Minister of Georgia, Kurt Tonf, Principal Deputy Assistant Secretary of US Department of State (Bureau of Economic and Business Affairs), Makram Azar, Vice Chairman of Investment Bank and Chairman of Barclays Bank PLC and Simeon Djankov, Rector of the New Economic School in Moscow under the moderation of John Defterios, CNN's Emerging Markets Editor and anchor of Global Exchange.
The role of Georgia as a regional hub for Asia and as a gateway to Europe was analyzed in the context of the following panels: transport, logistics and manufacturing; energy; and tourism and retail panels. The forum, which aims to introduce Georgia as a country favorable for investment, with an attractive business enabling environment, streamlined regulations and advantageous location, brought together about 300 guests from Japan, India, China, Singapore, Malaysia, Australia, South Korea and other locations. Delegations consisted of senior government officials and representatives of private sector businesses, investment groups, chambers of commerce and the international development community.