Hosting Iraqi Official Delegation to Introduce Effective Economic Reforms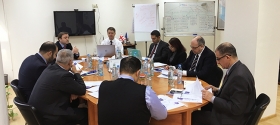 10.02.2016
On February 3-6, PMCG hosted an official delegation from Iraq. The study tour was organized by the International Finance Corporation (IFC) and aimed to share, with visitors, Georgia's experience of successful economic reforms in tax administration, E-governance and public services.
The delegation was headed by Dr. Nufal Al Hassan, the Iraqi Prime Minister's Chief of Staff, and comprised of economic advisors of H.E. Prime Minister, including Robert Bue Jouda, the World Bank Group (WBG) Iraq Country Manager, and Lemya Ayoub, WBG Private Sector Development Analyst. They all met with Aleksi Aleksishvili, PMCG's CEO and Chairman, who as a former Minister of Finance was one of the initiators and executors of a series of reforms in Georgia, resulting in economic deregulation and liberalization, and increased FDI and GDP growth rate.
The delegation also met with Dimitri Kumsishvili, Minister of Economy and Sustainable Development of Georgia, and the Georgian Prime Minister's office to learn of the recent challenges facing the country.
To observe tangible results of Georgia's reforms first-hand, guests visited the Public Service Hall in Tbilisi, where citizens can receive more than 300 services in one space, including business, property and civil registration. They also attended site visits to the Car Registration Service Center of the Ministry of Internal Affairs and Tbilisi Economic Zone of Registration to witness streamlined customs clearance procedures through its one-stop-shop service.
The delegation also visited the Georgian National Investment Agency, to gain an understanding of its role as moderator between foreign investors and the Government of Georgia, ensuring that investors can access necessary and up-to-date information.
Iraqi guests were also introduced to the recently opened Georgian Innovations and Technology Agency Techpark that offers its members a fab lab, training/conference hall, and business incubator for innovative ideas.