Hosting Belarus Delegation Experience in Introducing Effective Economic Reforms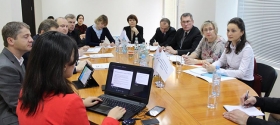 30.11.2015
On November 26-27, PMCG hosted an official delegation from Belarus in order to share details of Georgia's successful reforms in tax administration, E-governance and public services.
The representatives of the Ministry of Finance and the Ministry of Economy of Belarus had an opportunity to see the results of economic reforms first-hand. The guests were very impressed with what they saw during their visits to the Public Service Hall, Data Exchange Agency, Service Center of the Ministry of Internal Affairs, Customs Clearance Zone, Procurement Agency and Revenue Service.
"I'm really fascinated by the results Georgia has achieved. Belarus has already begun to introduce similar systems and I think Georgia's experience will help us to implement the reforms in an easier way," said Roman Gupolovich, the Head of the Division of Customs Control Organization and Analysis at the State Customs Committee.
The study tour was held within the project supported by the International Visegrad Fund. The second part of the project will be held in Minsk, where, together with Georgia, Visegrad countries (Czech Republic, Hungary, Poland and Slovakia) will share their experiences of designing and implementing economic reforms.
Please kindly follow the link below for detailed information about the project:
Transferring V4 and Georgia Reform Experience to Facilitate Economic Development in Belarus