Georgia Rises to 6th Place in the World Bank's Doing Business Ranking 2019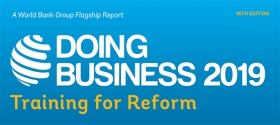 2.11.2018
We are pleased to share the news that Georgia has recorded an impressive rise in the World Bank's Doing Business Ranking 2019. We would like to congratulate the Government of Georgia (GoG) on this success. In addition, we are glad to have played a part in this progress by working with the Government to enhance and improve the country's business environment.
"The progress that Georgia has shown is very important. We expect that this result will be reflected in the country's economic growth and development," said Aleksi Aleksishvili, Chairman and CEO at PMCG.
Georgia has moved from 9th place in 2018 to 6th place in 2019 and stands behind New Zealand – 1st, Singapore – 2nd, Denmark – 3rd, Hong Kong SAR, China – 4th, and South Korea in 5th place.
The country occupies the leading position in the Europe and Central Asia region, ahead of the following countries: Macedonia – 10th, Azerbaijan – 25th, Kazakhstan – 28th, Armenia – 41st, Turkey – 43rd, Kosovo – 44th, Moldova – 47th, Albania – 63rd, and Ukraine – 71st place.
"The ranking shows the positive developments in Georgia. Now, the Government of Georgia has to focus on those indicators where we have an opportunity to make more progress, such as trading across borders, and especially streamlining import-related procedures," explained Giorgi Khishtovani, Director at PMC Research.
The 2019 scores are overall exceptional for Georgia, as the country has improved in 7 out of 10 indicators and has maintained the same position in the other three.
Follow this link for more detailed information:
http://www.doingbusiness.org/en/data/exploreeconomies/georgia