Feasibility Study on the Development of Integrated Solid Waste Management Systems in the Regions of Georgia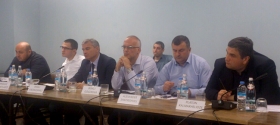 18.05.2017
On May 17, a joint consortium of Infrastruktur & Umwelt, PMCG and REC Caucasus presented the draft report of a feasibility study aimed at developing integrated solid waste management systems for the regions of Kakheti and Samegrelo-Zemo Svaneti.
Representatives of the Ministry of Environment and Natural Resources Protection of Georgia, the Ministry of Regional Development and Infrastructure of Georgia, Solid Waste Management Company of Georgia and the relevant municipalities attended the meeting.
The analysis is a part of a KFW project, which is being implemented in consortium with Infrastruktur & Umwelt (lead company) and REC Caucasus.