Equipping Georgia to Become Transport and Logistics Hub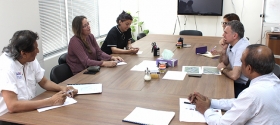 8.06.2017
On June 6, PMCG hosted a meeting with the team of the World Bank (WB) project entitled "Preparation of Feasibility Study and Detailed Design for the Upgrading of Rustavi-Red Bridge and Rustavi-Sadakhlo Roads".
The project team presented the draft of a feasibility study report placing an emphasis on resettlement, and the socioeconomic and environmental aspects of the project. In addition, the results of traffic data analysis, a topographic survey and geotechnical investigation were all examined.
These particular roads are of crucial importance, as they will become part of the East-West Highway project, which is a strategic project designed to transform Georgia into a transport and logistics hub for trade connecting Central Asia and, the Far East with Turkey, and Europe.
The WB project is being implemented by PMCG, in consortium with Sakgzametsniereba and led by Antea Netherlands B.V.