Enhancing Municipal Budgeting and Procurement System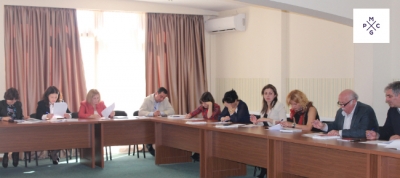 29.09.2014
Policy and Management Consulting Group (PMCG) continues to support local government reform in Georgia and strengthens the capacity of 14 newly created municipalities, under the USAID Good Governance in Georgia (G3) Program.
Following a Human Resources Management (HRM) course, on September 26-27 PMCG conducted trainings on municipal budgeting and the State procurement system, attended by the employees of newly self-governing cities.
The course is focused on enhancing municipal staff capacity and skills by introducing to them the legal basis of public funds management and expenditure, principles of procurement planning, procedural aspects of state procurement implementation and an overview of entire business processes, timeline and responsibilities of different units involved in the budgeting process according to the Budget Code of Georgia.
The municipal budgeting course covered the following topics:
Municipal budgeting process: Budget Code, budget calendar, system, cycle;

Classification of municipal budget;

Development of priority document, definition of priorities and stakeholders engagement;

Budget revenues: Forecasting income from property tax and other fees;

Transfers-equalization formula;

Budget expenditure: Preparation of budgetary request;

Program budgeting principles and rules, program budgeting forms;
Budget execution and reporting The State procurement course was focused on:
Rationale, objective and scope of the law on "State Procurement";

Procurement planning;

Terms of use of Unified Electronic System of State procurement;

Overview of the electronic means of state procurement (e-tender, simplified tender);

Peculiarities of procurement objects (goods procurement, service procurement, procurement of construction works) in the purchasing process;

Non-electronic means of procurement;

Taxation system requirements;

Monitoring and control of procurements;

Procurement reports;

Appeal and dispute resolution.
In addition to the detailed training sessions, PMCG consultants conducted special practical case studies and developed a State procurement and budgeting manual. These courses will be conducted four times within the space of a month.