Enhancing Chiatura Municipality's Water Supply System – Locals Updated on Progress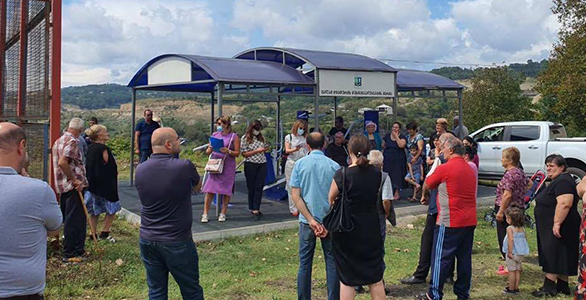 14.09.2020
On September 9, we conducted a public discussion designed to introduce upcoming plans regarding the construction and rehabilitation of water and sewerage systems in Chiatura with representatives of the municipality and the local population.
At the discussion, we presented updates concerning the construction of a new water supply system, the installation of pumping stations, the arrangement of water supply pipes and distribution network, the construction of a new reservoir, and the metering of hundreds of apartments in Chiatura municipality.
"This meeting was very important as we informed the local population about the project. Informing the public about the goals and benefits of the project, and providing with technical details and deadlines of the implementation are integral the parts of our activities. In addition, we presented a grievance and redress mechanism (GRM) to the community, and highlighted their rights and roles under this mechanism," said Ketevan Chubabria, Consultant in Environment, Health and Safety, and Social Safeguards at PMCG.
The event was staged in the course of the Urban Services Improvement Investment Program, which envisions supervision of construction/rehabilitation works on water and sewerage systems as well as wastewater treatment plants in four towns of Georgia. This project is being implemented by PMCG, as part of a consortium led by Hill International, and is financed by the Asian Development Bank (ADB).
Please kindly follow the link below for detailed information about the project:
Urban Services Improvement Investment Program