Empowering Youth to Obtain High-Quality Education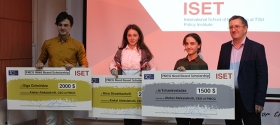 17.10.2018
On October 11, PMCG awarded students with scholarships to continue their studies in Master's programs at the International School of Economics at Tbilisi State University (ISET).
PMCG has been supporting youth in this way for four years now, helping them to obtain high-quality education by providing needs-based scholarships.
"We strongly believe that the progress of the country depends on well-educated young people and we are glad that we have an opportunity to make a small contribution," explained David Lezhava, Public Policy Sector Director at PMCG, during the awarding ceremony.
ISET was chosen as it is one of the leading economic schools in the region, meeting international academic standards. For the scholarships, three students who had demonstrated the strongest academic results and shown exceptional drive in their studies were chosen.
At the awarding ceremony, Mr. David Lezhava shared some insights from his diverse work experience, which includes working at the National Bank of Georgia, the International Monetary Fund, the Ministry of Finance of Georgia and PMCG, and he also gave some practical advice to the students.