Discussing Role of Digitalization and Economic Reforms in Good Governance in Central Asian Countries at OSCE Regional Ministerial Conference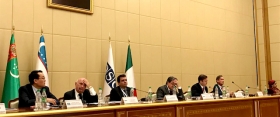 4.06.2018
On May 30, PMCG's Chairman and CEO, Aleksi Aleksishvili, delivered a presentation to the OSCE Regional Ministerial Conference – "Good Governance and Economic Connectivity – best practices within the OSCE Region" – in Ashgabat, Turkmenistan.
Aleksishvili discussed ways to advance good governance through digitalization and economic reforms, and shared the best practices of Georgia, as part of the panel entitled "Digitalization of economies as an impetus to connectivity".
In the second part of the presentation, Aleksishvili focused on challenges and recommendations regarding regional cooperation and economic connectivity.
The two-day conference, which was organized by the OSCE and the Government of Turkmenistan, brought together high-level officials and decision-makers from five Central Asian countries and Afghanistan and 21 OSCE Participating States and Partners for Co-operation. In addition, representatives of international organizations, academia, the private sector and non-governmental organizations were also involved.
A set of recommendations were developed during the conference to address a number of important topics addressed including trade facilitation, improvement of regional transit, modernization and digitalization of the economy.