Discussing How to Fight Corruption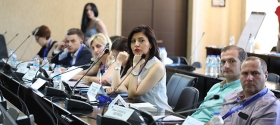 4.07.2017
On June 26, PMCG's team members Sopio Khoshtaria and Shushanik Safaryan participated in the 2nd Regional Meeting of the "Anti-Corruption Professionals Network at the Black Sea", in Kutaisi, Georgia.
The event gathered anti-corruption practitioners, local government representatives, as well as civil society and international organizations from Georgia, Moldova, Turkey and Ukraine, aiming to exchange their experiences of applying the anti-corruption methodology in the municipalities of the participant countries as well as other Central and Eastern European countries.
More specifically, participants discussed the methodology of "Islands of Integrity" – a tool for public officials to identify and change public policies and organizational systems to overcome corruption. In addition, they shared their experiences of introducing anti-corruption policies in their home countries and ways of multiplying the methodology of "Islands of Integrity" in the Black Sea region.
This, the second conference in Georgia, is part of the follow-up activities of the 9th edition of the Black Sea NGO Forum organized by the Romanian NGDO Platform (FOND), with the financial support of the European Commission and the Romanian Ministry of Foreign Affairs in partnership with UNDP's Regional Centre for Europe and Central Asia and Civil Society Organizations' Partnership for Development Effectiveness (CPDE).