Discussing Georgia's DCFTA Opportunities and Challenges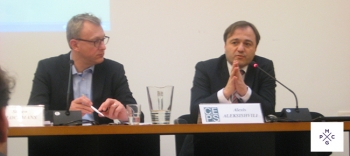 11.12.2014
On December 10, Policy and Management Consulting Group (PMCG) represented by General Director Aleksi Aleksishvili participated enthusiastically in an international conference, held in Brussels, covering the challenges which Georgia, Ukraine and Moldova may face on their way to EU integration.
Aleksishvili began his speech by emphasizing the beneficial impact of the Deep and Comprehensive Free Trade Area (DCFTA) for the Georgian economy and underlined the new opportunities which the Agreement might bring for the citizens of Georgia.
In addition, Aleksishvili highlighted the number of challenges the country may face and the risk avoidance measures that should be enacted. These included empowering capacities of relevant agencies to ensure institutional and administrative support of the process, increasing competitiveness for Small and Medium Enterprises (SMEs) and enhancing dialogue and informed policy elaboration to ensure coordination between the private and public sector.
During the event, Aleksishvili underlined that "Georgia has to avoid any delay in the implementation process of DCFTA and it is essential to have enhanced coordination between the government and private sector to fully benefit from the opportunities the DCFTA offers."
The conference was organized by the Konrad Adenauer Foundation together with the Centre for European Policy Studies (CEPS) in Brussels, which gathered high-level officials, experts and civil society representatives from Ukraine, Georgia and Moldova as well as policy makers from the EU countries.