Developing an Integrated Solid Waste Management System in Zugdidi Municipality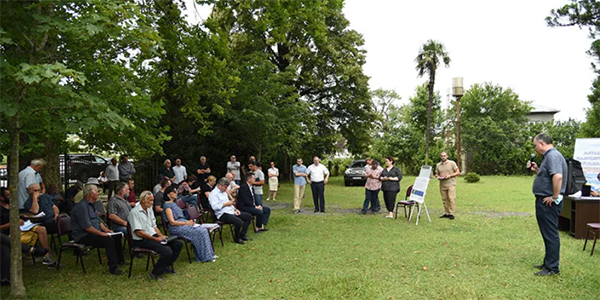 5.07.2020
We are working in Zugdidi municipality to enhance the sanitary conditions of the local population in Samegrelo-Zemo Svaneti region by improving its solid waste management system. Our work in the region entails the construction of regional sanitary landfills and transfer stations, the closure of existing landfills, the extension and improvement of street sweeping, as well as waste collection and waste transport.
Clear communication with the local community is key to the project's implementation. Therefore, on June 24, a public discussion was conducted on the scoping report on the closure of the Zugdidi landfill and the construction of a new, modern non-hazardous waste disposal facility.
"Communication is fundamentally important. While today's regulations require the involvement of the population in public decisions, it is important to inform them properly and in a timely manner. Optimal distribution of resources, a proper communication strategy and properly implemented activities can lead to each member becoming fully aware of the community, that will ensure the success of this common good," said Ana Kabzinadze, Communications Consultant at PMCG.
The public discussion was held in the course of the Integrated Solid Waste Management (ISWM) Programme II, which is funded by KfW, and is being implemented by PMCG, as part of a consortium led by Fichtner.
Please kindly follow the link below for detailed information about the project:
Integrated Solid Waste Management Programme II, Kakheti and Samegrelo-Zemo Svaneti Regions, Georgia: "An Accompanying Measures Consultancy Service"