Corruption Perceptions Index 2016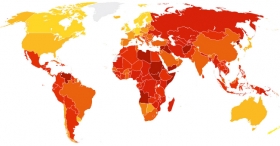 7.02.2017
On January 25, Transparency International published its Corruption Perceptions Index 2016. According to the Index, over two-thirds of the 176 countries assessed fall below the midpoint of the scale which ranges from 0 (highly corrupt) to 100 (very clean). As was the case in 2015, New Zealand and Denmark top the rankings with a score of 90.
Georgia, with 57 points, occupies a leading position in Eastern Europe, improving by 5 points from last year. Indeed, Georgia is now ahead of some EU member states such as Czech Republic (55 points), Slovakia (51 points), Hungary (48 points), and Greece (44 points).
Among CIS countries, Belarus is the leader with 40 points followed by Armenia (33 points), Moldova and Azerbaijan (30 points), Ukraine, Kazakhstan and Russia (29 points), and Tajikistan (25).
Standards in Central Asia are generally low with the highest score in the region recorded by Kazakhstan (29 points) and the lowest by Uzbekistan (21 points).
In the Balkans, results were mixed with Slovenia recording 61 points followed by neighbors Croatia (49 points), Montenegro (45 points), Greece (44 points) and Serbia (42 points).
Countries given a low score in the Index are deemed to have untrustworthy and badly functioning public institutions. According to the report: "Even where anti-corruption laws are on the books, in practice they're often skirted or ignored". Meanwhile, in high-ranking nations there is a higher degree of press freedom, better access to information about public expenditure, stronger standards of integrity for public officials, and independent judicial systems.