Chinese Academy for Fiscal Sciences Set for Cooperation with Tbilisi State University and Academy of the Ministry of Finance of Georgia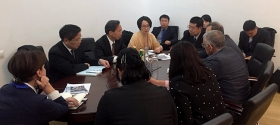 13.11.2018
On November 6, PMC Research organized a meeting between the Chinese Academy of Fiscal Sciences (CAFS) and Tbilisi State University (TSU), with the aim of introducing these two institutions to each other and discussing collaboration opportunities. As a result of the meeting, various cooperation models were discussed, including an internship program at the CAFS for researchers from TSU.
"We are pleased that we had the opportunity to connect these two institutions with each other. The CAFS is one of the largest think tanks working on public administration and public finance in China. So, the proposed internship would be interesting and fruitful for researchers from TSU to enhance their skills and knowledge," said Tamar Japaridze, Executive Director at PMC Research.
Another productive meeting was held between the CAFS delegation and the Academy of the Ministry of Finance of Georgia. The two institutions shared their experience and considered the prospective joint projects, including a trade forum, focused on the advantages of the Belt and Road Initiative, and the challenges and opportunities related to trade between Georgia and China.
The CAFS delegation visited Georgia through November 6-7. Along with representatives of academia, they also met representatives of public institutions, including the Ministry of Regional Development and Infrastructure of Georgia, the National Bank of Georgia, the Ministry of Economy and Sustainable Development of Georgia, the Agriculture Projects Management Agency, and the Ministry of Finance of Georgia.
The CAFS was founded by the Government of the People's Republic of China with the aim of supporting the Government with research-based policy advising. Today, the CAFS unites 12 research centers working in different directions, including the Center for Macroeconomic Studies and the Center for Public Finance and Governance Studies, and is mostly engaged with studies on fiscal and economic theories and policies, as well as advising on issues related to government policy-making.